Faces of the Foundation
The Durdin Family - Australia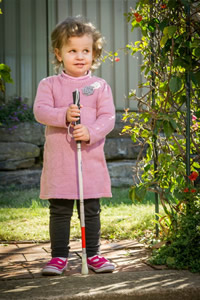 Here is a little bit about the Durdin family from Australia, and their little girl Shianne. I introduced Shianne back when we met her in Philadelphia. She reminds me so much of Gavin! Shianne also has the NMNAT1 gene mutation. Just like Gavin, LCA was passed on to her unknowingly from her parents. I'm so happy she is a part of our Foundation. I will be sharing two more children who are a part of our Foundation, very soon. They just found out they also have the gene. After many years, they FINALLY received word of their gene. It will be through our efforts, of sharing information, that we can spread the word about LCA across the globe.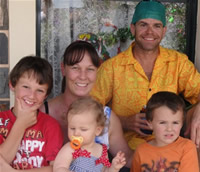 Hello to everyone, my name is Colleen and I am a wife and mother of three beautiful childen. My eldest, Corey is 10 years old, Tyson is 6 years old and my daughter Shianne is 3 years old. We are a close family especially once my daughter was diagnosed with "Leber's Congenital Amaurosis", a rare retinal disease that causes infant blindness. We discovered that Shianne was blind when she was about 10 weeks old and it was the hardest thing we as a family had ever been through together.
After a little over two years and with the help of Jennifer and Troy Stevens who put me in contact with Dr.Chiang we discovered Shianne gene – NMNAT1. The day her condition was confirmed was a day of relief because we could finally move on. Moved on we have and Shianne is one of the most adorable little girls I know, she captivates attention where ever she goes and leaves people amazed. Shianne loves to sing and mimic people, she also enjoys being outside playing on the lawn or swimming in the pool. She is up for any new challenge and seems to exceed in everything she tries.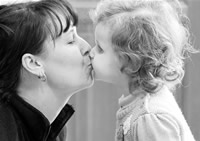 Although Shianne excels, finding a cure for her NMNAT1 gene would mean the world to us as a family.
The day that Shianne says " Mum, so that's what you look like" will be the day I pray for.
I strongly believe that day will come and it will only be due to the efforts of awareness and fundraising to help the researchers to keep doing their amazing work.
If you would like to know more about my family or Shianne in particular you can follow our story on www.shiannedurdin.com.au
[ Return to top ]
The Whalberg Family - USA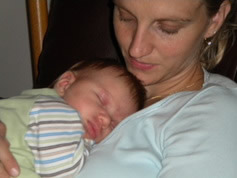 My name is Rebecca Wahlberg, and I have been married to my husband, Bert, for 7 years. Before we had Gabriel, neither of us had ever heard of Leber's Congenital Amaurosis (LCA). There is no history of blindness in our families. Bert, our eldest son Oliver, and I all have perfect vision. As we learned a few months after Gabriel's birth, none of that mattered. LCA was something beyond our control. It is something hidden in the complexity of our genetic code, a mutation of a specific gene that both Bert and I carry. Because of this rogue gene, our children have a 1 in 4 chance of being born blind.
We welcomed Gabriel into our family on October 29, 2010, He passed ALL of his newborn exams, and continued to pass the monthly infant wellness exams. We noticed that Gabriel's eyes didn't focus, and that he never "looked" at anyone or anything. I kept thinking that his eyes would develop eventually. Afterall, babies are born with very poor eyesight. I wasn't expecting or looking for a problem. Any concerns that were brought up concerning Gabriel's vision were put to rest by the fact that the pediatrician NEVER noticed a problem while examining his eyes. At one point we were even told that Gabriel had great hand/eye coordination!
I often wonder how I could not know that my own child was blind. I noticed things about Gabriel that seemed unique and different, but I attributed this to him being unique and different. He was nothing like Oliver at the same age. Gabriel was very tactile, constantly feeling, tapping, and exploring his environment by touch. His hands were always in motion. He had great fine motor skills, and was able to manipulate toys at an age when most babies are not capable of doing so. I come from a family of musicians, so I figured that he had inherited the finger dexterity! At the same time, Gabriel didn't reach certain developmental milestones. He showed no desire to roll over, crawl, or sit up. He was content lying flat on the floor kicking, and playing with toys within arms and legs length. He was very sensitive to noise, and taking him to restaurants, the grocery store, or other noisy environments was challenging. Something wasn't right.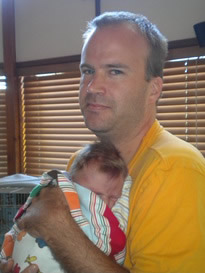 Through the urging of his grandparents and a family friend, we finally took Gabriel to the doctor to specifically have his eyes examined. We were immediately referred to an ophthamologist, who upon examination concluded that Gabriel had pigmentation of the retinas. He referred us to the Bascom Palmer Eye Institute in Miami to determine the diagnosis. It was Good Friday of Easter Weekend 2011, and we learned that our sweet baby boy was blind. It is hard to describe that time of our lives. Never before have we felt so broken. The day before I was still looking forward to having my boys chasing each other, playing ball, watching cartoons together, and now I found myself having to explain to my four year old that his little brother's eyes didn't work. One thing that struck me during these weeks was that Gabriel was happy and content as always. Blindness, to him, was normal.
We spent an entire day at the Bascom Palmer Eye Institute undergoing testing. The retinal specialist informed us that Gabriel was blind due to LCA, and there was no cure. Then she was gone, and we were left alone frozen in shock. Bert and I returned home, obsessed with finding research about LCA, and access to the internet made that pretty easy. We learned that there are several genes that cause LCA, and that there are approximately 3000 individuals in the United States that are affected by the disease. We also read about an 8 year-old blind boy, Corey Haas, who in a research study received gene therapy for a gene called RPE65 and had significant restoration of vision.....HOPE! Over the next several months we ordered genetic tests to determine which form of LCA that Gabriel had. The known genes made up 75-80% of LCA cases, and to add to our frustration, we tested negative for all of them. Not knowing what causes a disease like LCA is terrifying. Some LCA genes are known to cause other conditions, and so we were left worrying whether or not Gabriel would develop kidney problems or perhaps go deaf.
We finally received Gabriel's exact gene mutation a year after his initial diagnosis of LCA. We had been following a family's blog online, and they announced that a Dr. Chiang from the Casey Eye Institute in Oregon had discovered a new disease-causing gene in their son, Gavin. Gavin, two years older than Gabriel, is also blind due to LCA. To me, Gabriel's blindness seemed similar to Gavin's. Other forms of LCA are more progressive in that the children are born with some vision and are robbed of their sight as they get older. Some are legally blind by the time they are 5 or 6. Others maintain some vision until the teenage years. It varies depending on the gene. Gabriel, like Gavin was born completely blind, and both boys had similar pigmentation of the retinas. I contacted Jennifer Stevens, Gavin's mother, and she provided me with Dr. Chiang's information. I emailed him immediately, and to my surprise received an answer within minutes. That same hour we spoke on the phone. I appreciated the time and care that Dr. Chiang took to personally talk to me, and I felt that we were in good hands. After several months he was able to confirm that Gabriel's mutation was indeed on the new LCA gene, NMNAT1.
So now we wait and hope for a cure. In the summer of 2012 we attended the LCA Conference in Philadelphia, and also visited doctors at the Massachusetts Eye and Ear Infirmary in Boston. We learned a lot about possible future treatments. The research being done is impressive, and I am convinced that one day nobody will have to live in darkness. I just hope that it will happen for Gabriel. He is still at an age that he doesn't realize that he is different from others. He isn't sad, and he doesn't feel sorry for himself. Gabriel is an incredible little boy, and we never cease to be amazed at his perceptiveness and ability to adapt. At the age of two, he has inspired us and brought us much joy. I know in my heart that Gabriel will be ok, but I still have a sadness for my son that creeps up ever so often. The last couple of years, I have taken the words of St. Padre Pio to heart, to "pray, hope, and not worry". This isn't always easy to do.
We invite you to follow our blog as we describe the joys and challenges of raising a blind child. And hopefully in a not too distant future, we will be able to share what it is like the first time Gabriel looks into our faces.
Visit the Whalberg's web site - Through Gabriel's Eyes
[ Return to top ]
The Barretto Family - Brazil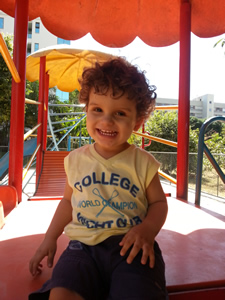 Hi everyone, we're Marcos and Tatiana, Pedro's parents. We are Brazilian's, originally from Salvador, State of Bahia. Today we live in Brasilia, Brazil's Federal Capital. Pedro, our beloved son, was born October 16, 2010. He has been our greatest joy!
Our son is a fantastic 2 year old boy, very smart and happy. His smile is contagious. He loves listening to music, and loving to be read to. His joys are playing in the water, swinging and singing with many hugs and kisses to his mommy and daddy.
Pedro is our first son and took us a while to notice that something wasn't right. The pediatricians never noticed anything wrong, and neither did the ophthalmologist at a routine consultation when he was 6 weeks old. Later on, we found out that on the first months eye examinations of infants with LCA reveal normal appearing retinas.
When he was 11 weeks old, that we noticed that his eyes had a different eye movement, which we found later to be nystagmus. Not knowing the diagnosis was the worst thing ever. We were very scared. After consulting many doctors the question became: Does he have Leber's Congenital Amaurosis? We of course never heard of this rare disease, and we have no family history of blindness in our families either. The first thing all the doctors would ask us is if we were parental related, which we are not.
We decided to begin our travels to find out more about this disease and to examine if there were any cure. We traveled many miles through several states and to Sao Paulo were we met Dr. Juliana Sallum. She then diagnosed Pedro with LCA and suggested genetic mapping which we just ended up recently identifying the gene NMNAT1, responsible for his blindness.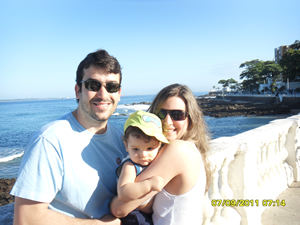 The discovery of this gene was a great moment of satisfaction because we can now direct our forces to try to help in any way possible to find treatment to help Pedro and others affected with LCA.
On March 9, 2013 we went to Sao Paulo to a conference and met with great pleasure Dr. John Chiang. He told us that research is being conducted with mice to find treatment by Gene therapy and cell for the NMNAT1 gene. We came back home with a good feeling, because now we know that research is being done.
Raising a blind child is different, but we can't say it's difficult. Pedro inspires and amazes us every single day, and we feel absolutely blessed to have him.
Our prayers are that one day Pedro, and others with LCA, will admire with their eyes, all the beauty of this world, and it will be the happiest day our lives!
It's a great satisfaction sharing our history across the globe. We would like to help spreading the word about LCA also in Portuguese.
If you would like to know more, you can contact us on Facebook
http://www.facebook.com/tatiana.maron.7
Email: tatimaron@hotmail.com
[ Return to top ]